We're very excited to share Connections 22 with our extended Commvault Community!
Whether you're a veteran of past Commvault events or this will be your first Commvault event, we have a ton of great new content planned, and also quite a few ways to engage and interact with Commvault experts, our sponsors, and your peers. 
You can find the complete agenda and speaker details here - and make sure to register if you haven't already. And check out this preview of the technical tracks from Ranga, Commvault's head of Products. 
In addition to the information- and innovation-packed keynote, panel, roadmap and Solution track sessions, I wanted to highlight other new aspects of the Connections 22 virtual event format and experience. (For those of you who joined us for Connections 21, we're excited to debut a new event platform this year with more ways to participate and engage.) Here are a few of the highlights and reasons to join us live...
A truly global event
Connections 22 will run across 3 regions and time zones and 2 days (Nov. 2nd & 3rd). Choose the one that works best for you. 
The Connections Challenge
Who doesn't enjoy some good SWAG? Points mean prizes at Connections 22, and by participating in the **Connections Challenge raffles and engaging in different ways throughout the event, you could win some awesome giveaways, including the grand prize of a $5,000 AMEX vacation voucher*.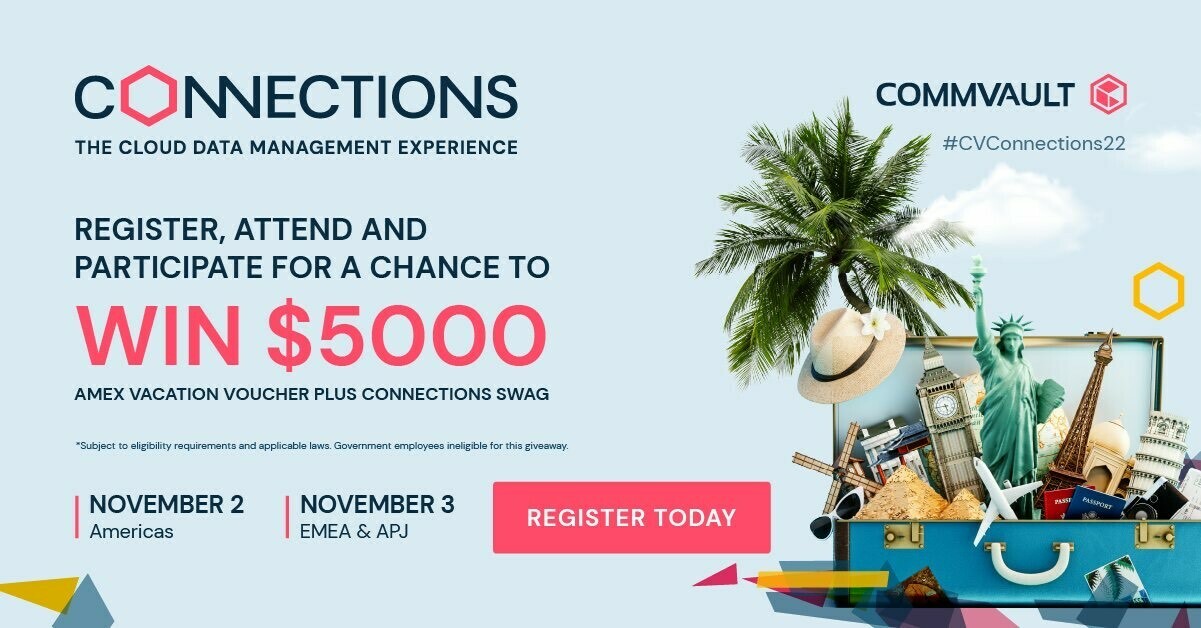 DemoZone, Exhibit Booths, and Community Networking
New for 2022! We're excited to have more ways to interact and go deeper into the portfolio. After the conclusion of the keynotes and Solution track sessions, be sure to stick around and swing by our new Exhibit and Networking hubs. 
The DemoZone will feature our Commvault portfolio across a selection of customer use cases, including Unified Data Management and Protection and Defending Data with Cyber Deception. You'll also have a chance to chat and ask questions.
Drop by our sponsor Exhibit Booths where Microsoft, Oracle, and AWS will be on hand to share more about their solutions and answer your questions.
Drop by the Customer & Community Networking area, where you can meet peers and members of the Commvault Community and Customer Experience team, rub virtual elbows with fellow attendees, and find out more about Commvault's Customer and Community programs.
Inaugural Customer Innovation Award winners
Between general sessions, look for announcements of our award winners and to hear a little from them about their projects.
Even more ways to engage day-of
When you log in, here are a few more ways you can participate:
Photobooth - take your photo and update your profile avatar
Chat and "Ask a Question" options
Download resources into your "Briefcase" as you go through sessions and exhibits

Surveys. We value your feedback to inform future event plans. Look for brief surveys in two places – session-specific at the end of each general session and breakout – and then an inclusive survey covering the event as a whole which can be accessed from the home page of the event site.

And of course on social channels! Follow and join the conversation at #CVConnections22. 
Need more reasons to attend?  Find them here in the "22 Reasons to Attend Connections 2022" blog post!
Don't forget to register and tell your friends. Those registered in advance should expect to receive a personalized link on Nov. 2. Feel free to ask questions before or after here in the Community - or directly through the event site on the day of. 
Connections Challenge **Terms and Conditions apply.** More information will be available on the event platform during the event. *Subject to eligibility requirements and applicable laws. Government employees are ineligible for this giveaway.*