Hello to all,
In order to save some Commvault licenses, it's a good practice to Release License from CommServe & MediaAgent?
In a test, I see that after this action, MediaAgent still proceed with DDB backup.
So, is this any reason to keep consume Commvault license for Commvault infrastructure Servers?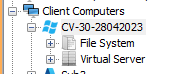 Please for your feedback!
Best answer by Sebastien Merluzzi 24 May 2023, 12:04
View original