Hello team,
We want to filter out a group from a backup alert, and it works fine with other options.
However, we noticed a strange behavior that as long as we select the option "Backup for subclient failed consecutively for n attempts", 
Commvault will never evaluate the "Group Token" or any other Token that we set in the Token Criteria to filter out a particular group from being alerted. Rather keeps sending an alert for the particular group that we want to be excluded.
I have tested this in different ways, but it does not evaluate any Token Criteria that I defined at all, rather ignore whatever Token Criteria that I set and send an alert right away when job status including (job killed, the job failed, job completed with errors, killed by the system )
I suspected it's expected behavior as long as failed backup job status falls in the above failed backup job status.
But our customer wants me to check with Commvault to see if this's expected or that is something that Commvault needs to be addressed internally. 
***
Here is what we set in Commvault :
Category:  Job Management
Type:          Data protection
Threshold and notification criteria selection:   
backup for subclient failed consecutively for 3 attempts 
Job Failed
added a token criteria to exclude a group from alert, and it keep sending alert for this particular group

Apparently, once it meets failed consecutively Criteria, it will not evaluate what we defined in the Token Criteria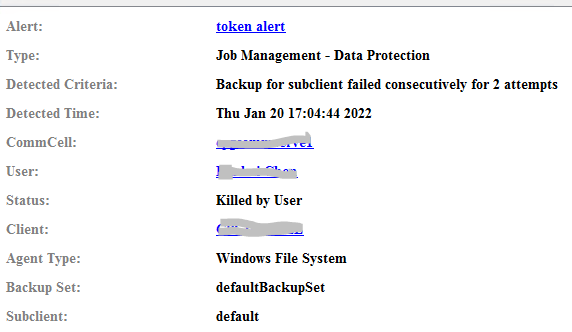 Note: Token Criteria works fine for others Criteria such as "Job Succeed", "Job Start"
Best answer by Mike Struening 24 February 2022, 23:59
View original