Hello,
we have a problem with CommVault and the backup of our Exchange, which rather boils down to incorrect / incomplete backup configuration.
CommCell ID: 1012ff
Version: 11.22.36
We have Exchange 2016 (on premise) or the entire DAG for backup.
DAG consists of 4 Exchange servers based on Nutanix (AHV), in 2 clusters.
Current CV configuration: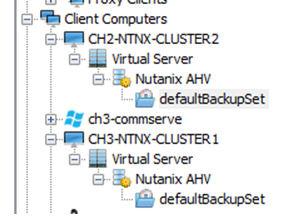 2 DAG nodes per cluster, assigned to Data Protection EX-AD-CH2 and EX-AD-CH3: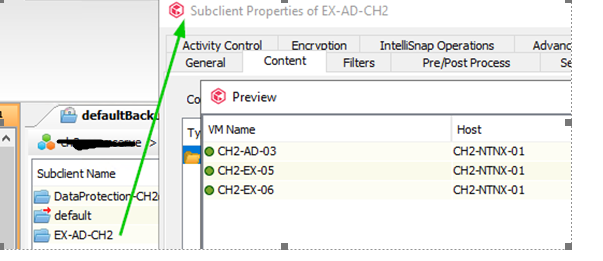 When you try to restore, you can see that something has been bought back:

Only with this approach we backup the entire VMke in the form of a snapshot - this approach is not recommended by MS in the case of Exchange.
Additionally, the job ended with an error - it was not possible to mute the system files:

In addition, I added a new client - Exchange DAG - with an indication of our group: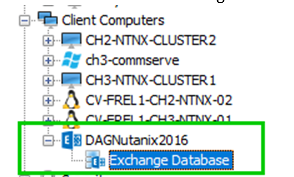 At the same time, this one does not see nodes, so I bet that I have not set something up yet.
Backup configuration questions:
What is the correct approach to Exchange backup using CommVault in our case?
Exchange does not seem to support snapshots, or is not recommended:
"Some hypervisors include features for taking snapshots of virtual machines. Virtual machine snapshots capture the state of a virtual machine while it's running. This feature enables you to take multiple snapshots of a virtual machine and then revert the virtual machine to any of the previous states by applying a snapshot to the virtual machine. However, virtual machine snapshots aren't application aware, and using them can have unintended and unexpected consequences for a server application that maintains state data, such as Exchange. As a result, making virtual machine snapshots of an Exchange guest virtual machine isn't supported."
https://docs.microsoft.com/en-us/Exchange/plan-and-deploy/virtualization?view=exchserver-2019
Please help with the correct configuration of the backup.