I have to fetch a monthly report where for example, Agent Type Virtual Server. For this agent I'll fetch the Job historyfor each day and will apply sorting descending on Duration column. Then manually enter the duration in my report.
For this, is there a shortcut from Reports or some other option? Where I can fetch the highest duration by agent type for a range of dates. For each date highest duration. Like we have 
Best answer by B*star 31 July 2021, 19:04
Hi,
Open ssms and pass the credentials
expand 'databases' → find "CommServ" database → right click and select "new query"
New tab opens with blank space. We can paste the query there and execute it (Shortcut button : F5). After successful process completion of query, results will be displayed.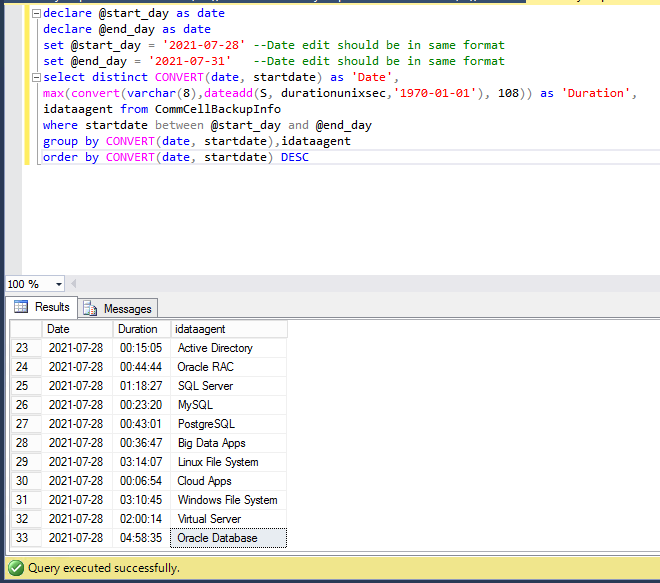 updated query :
declare @start_day as date

declare @end_day as date

set @start_day = '2021-07-28' --Date edit should be in same format

set @end_day = '2021-07-31'   --Date edit should be in same format

select distinct CONVERT(date, startdate) as 'Date',

max(convert(varchar(8),dateadd(S, durationunixsec,'1970-01-01'), 108)) as 'Duration',

idataagent from CommCellBackupInfo

where startdate between @start_day and @end_day

group by CONVERT(date, startdate),idataagent

order by CONVERT(date, startdate) DESC
View original