Hello,

I have two Tape library, old with LTO4 tapes and new Tape library with LTO7 tapes.
I created an Aux copy separately for each storage policy and successfully copied the content from LTO4 tapes from old Tape library to LTO7 tapes on new Tape library.
We plan to shut down the old Tape library soon.
When that happens, will I be able to do a Restore normally from LTO7 tapes to which content from old LTO4 tapes has been copied?

Best regards,
Elizabeta
Best answer by Laurent 14 June 2021, 17:16
To temporarily disable your Tape Library, right-click on it and Select Properties , then Go to the Status tab :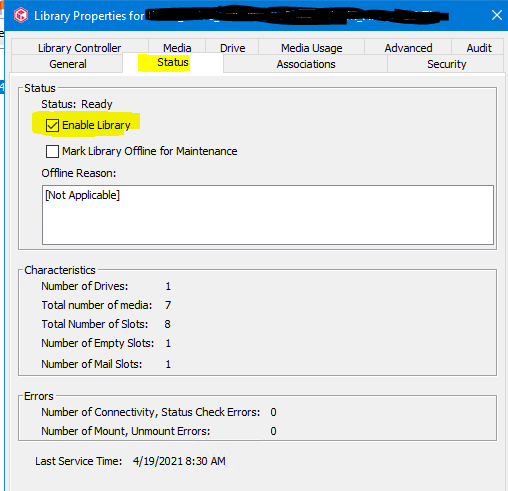 Uncheck the Enable Library checkbox, and the library should be disabled for use ==> Not usable for a restore at all..
Regarding the Storage Policy Copy promotion as the new primary, you can't 'unpromote' the Primary from it's properties, as you saw it's grayed out. Instead, you have to open the properties of the LTO7 copy, and from its properties, you should be able to have the possibility to check the 'Primary' checkbox. It also has to be a synchronous SPC, otherwise the checkbox will not be available.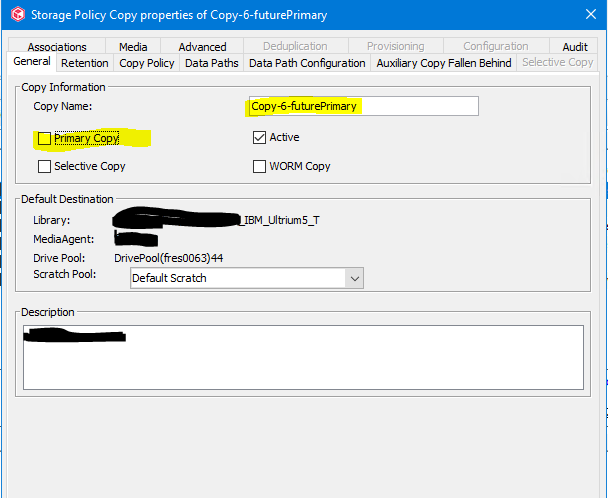 I do not remember from your previous posts if you created a selective SPC or a synchronou SPC.. 
That is not a problem, you can still create a new copy in the same Storage Policy, with the same settings as yout LTO4 SPC, but pointing to your LTO7 library, and then promote this new SPC as the new primary, like this.
View original