Hello,
What does mean the red icon under the Primary copy for an aws Storage policy ?

Thanks!
Best answer by dude 7 April 2021, 16:23
@Bloopa this is NOT necessarily an issue. It could be that your "Backup Copy" has not started yet and therefore the primary is waiting the schedule to copy all the "To Be Copied" jobs Primary.
 
Here is what you can do to first understand the behavior;
1-      You can right click the primary copy and then view -> schedules
             a.       All the schedules associated to the primary will open and you should see an Backup Copy similar to this the below. From there you can see when the Backup Copy is scheduled and next time it will run automatically catching all these jobs. OTHERWISE go to #2

2-      You can right click the Backup Copy Schedule you found on step 1 and click Run Immediately. OR
3-      You can also, right click the Storage Policy and then Run Backup Copy. That will trigger all pending Backup Copy jobs for that Storage Policy.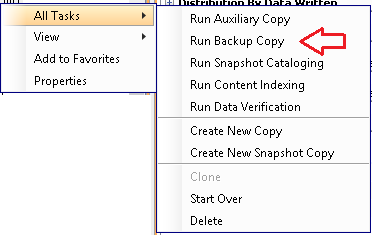 View original