So the ticketing service is kind of being slow with this process, and i want to know if I can do this on my own. We have an alert for No Index Backup in the last 30 days. I don't know why they are not storing the index information on the media agents but storing the index data to tape. How do i get a client that is on this list for no index backup to get the index to backup to the media agent so i can get rid of this list?
Best answer by Damian Andre 23 April 2021, 18:29
Hey @TP_Erickson,
With V2 indexes, the databases are stored on media agents, but Commvault tries to also ensure that those databases are backed up are included with other media as well. In this instance, it wants to ensure a backup of the index is stored in the same location as your tape media, so if you had a disaster situation where you lost your index databases, a copy of the constructed database can be restored to accelerate restores, without having to pull the action logs stored in each backup (and each tape) before you can begin to restore. 
There are a bunch of reports available to help you understand index health in general. There are certain parameters that must be met be met in order for the index to qualify for backup - sometimes if those are never met, it will trigger that no backup condition. This usually happens when there is some sort of problem with the index. I'd definitely recommend browsing these reports to get a better understanding of what is happening with indexing:
https://documentation.commvault.com/commvault/v11_sp20/article?p=10756.htm
The index backup report is probably the one you want to focus on, it should give you an idea of what the backup state is.
It also looks like you are sending health reports to cloud (yay!), so your indexing backup report should be accessible from here: 
https://cloud.commvault.com/webconsole/reportsplus/reportViewer.jsp?reportId=IndexState&input.CommServUniqueId=93511
There are also extra columns you can enable to help get more details on any errors: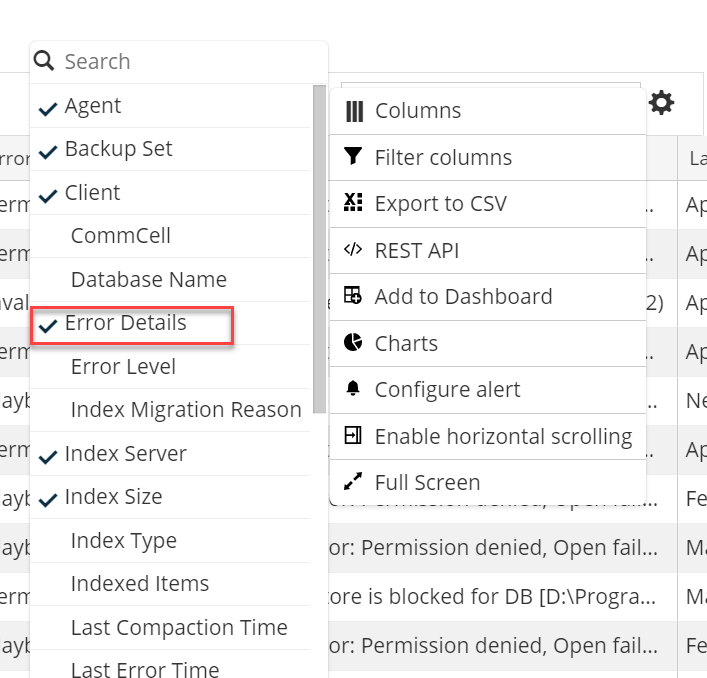 View original