We are making it easier to share and celebrate your Commvault certification credentials across social media platforms, websites, emails, and resumes!
We're excited to announce that Commvault has partnered with Credly, a leading digital badge platform that helps learners showcase their verified knowledge, skills, and abilities to their entire online network.
Read more in our blog post with the full announcement.
For our customers and partners with current Commvault certifications, your badges will be issued this week. Make sure to watch for a welcome email from Credly so you can create your account there and start sharing your digital badges. Over the next few weeks, our community team will also start uploading badges to members' community profiles so these achievements are reflected here as well. 
An important change to note related to our top-level certification, formerly known as the Commvault Master. This elite level is now Commvault Expert, and those badges will reflect the new name. Commvault is moving to neutral language in line with industry standards, but nothing about the highest level achievement changes!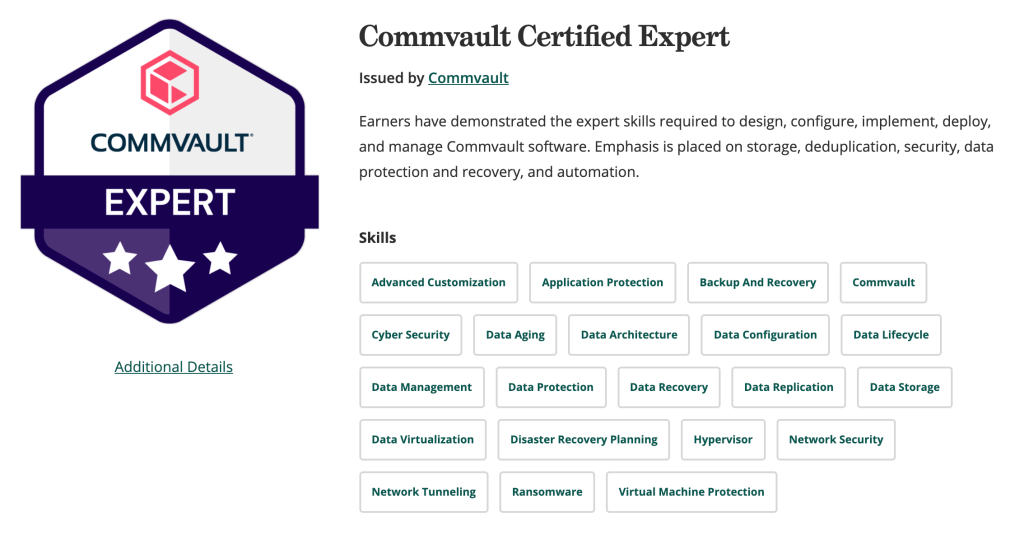 For those currently pursuing certification or renewing with an update exam, as soon as the certification is successfully earned, the corresponding digital badge will be sent to you. 
Want to learn more about Commvault training and education? Click here for details.
Find additional details on the Credly digital badges here, and feel free to ask us any questions on the community.  We want to help you show off!