Hi folks,
At Commvault we're all thrilled to see the increased growth and engagement of the Commvault community which launched just over a year ago. We're at over 7000 customer and partner registrations, and it's been amazing to watch a revitalized community come together in a relative short span of time. The community is one of several initiatives to improve our overall customer experience, and today we're announcing the next milestone in that journey.
We're upgrading the search experience on our self-help sites to help you get faster answers to your questions and solutions to your challenges. The new search experience uses advanced machine learning to provide relevant results from a range of sources. Over the coming months, the accuracy will continue to improve as the system begins to learn the terminology of our product and search patterns of our customers.
The new search experience will federate information from 200,000 documentation pages and 14,000 community threads, replies and KB articles to streamline access to helpful content. The new search is integrated on documentation.commvault.com and within the knowledge search section of Maintenance Advantage. Likewise, our Metallic customers will also get the updated search experience in the Metallic support portal and Metallic documentation site Knowledge Search.
To highlight some new functionality on our documentation site, you'll notice that by default we will search across all content sources and display the most relevant result. If you'd like to further narrow your search to specific documentation, metallic, community or knowledge base content, you can do so easily by the tabs located at the top of the search page.

A new 'quick view' feature on documentation and knowledge article results allows you to quickly load up the page right from the search and highlight the keywords without escaping to a new page or tab. Your search term(s) at the top of the quick view window show the number of matches on the page and allows you to quickly scroll and sort between them.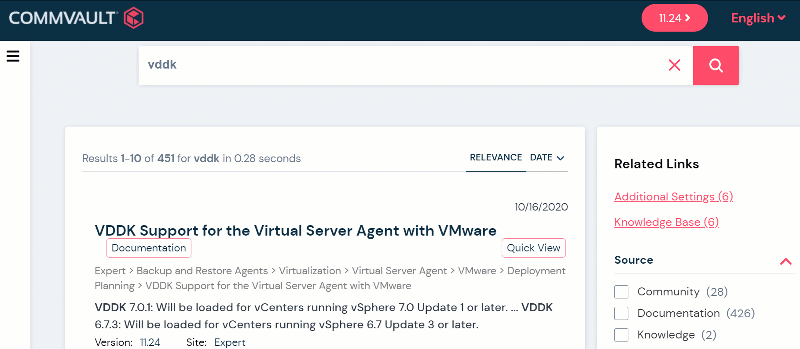 Facets to the right side of the search results allow additional options to narrow down the results, for example you can choose to see expert documentation over essential or vice versa.
That's it for now – we have many more projects planned to improve our systems, sites, and processes to streamline your Commvault and Metallic experience and look forward to announcing more in the coming months!
In the meantime, we'd love to hear your feedback on the new search experience in the comments below