Hello Guys,
I need your help.
I am deplying a VM protection (Red Hat Enterprise Virtualization) in the Customer's environment.
The Customer has the following configuration: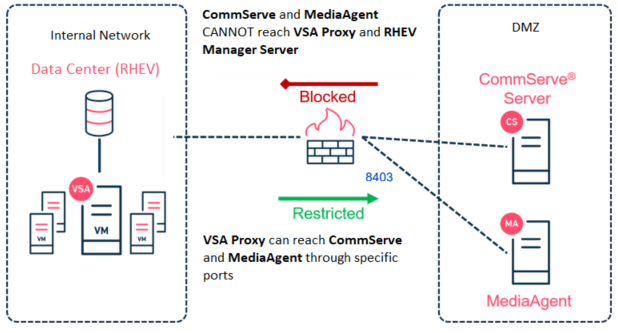 CS and MA are located outside of Internal Network.
RHEV Manager Server is located behind the Firewall.
VSA Proxy is a part of the RHEV environment (VM running Linux OS)
I created a Client Group called 'DMZ', then I put the VSA proxy to this group.
I also set the Network Route for DMZ group as follows:
From Infastructure Group - Blocked
Then I set the Network Route for Infastructure group as follows:
From DMZ Group - Restricted (port 8403)
Is anything alse that I need to do to create a RHEV pseudo-client?
Do you think that this Firewall configuration should work or maybe I should set the Firewall in different way?
Rgds,
Kamil