I'm a little confused about multiple partitions and or DDBs limitation. There are several places when limits are mentioned like the one and only Hardware Specifications for Deduplication Mode
1) https://documentation.commvault.com/11.24/expert/111985_hardware_specifications_for_deduplication_mode.html
which mentions "2 DDB Disks" per MA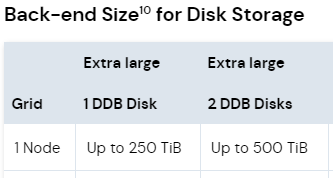 and
Configuring Additional Partitions for a Deduplication Database
2) https://documentation.commvault.com/11.24/expert/12455_configuring_additional_partitions_for_deduplication_database.html
which mentions "30 DDB partitions" per MA.
Also, In my recent discussion with PS member I was told that a partition should be treated as DDB itself.
All of this creates a lot of confusion like
a) is "DDB Disk" the same as DDB?
b) is "DDB partition" the same as DDB?
If you look at 1) /Scaling and Resiliency there is a information
The back-end size of the data. For example: Each 2 TiB DDB disk holds up to 250 TiB for disk and 500 TiB for cloud extra large MediaAgent.
That means that a DDB with only 1 partition needs a 2TiB DDB disk for 250TiB backups (backend) and we know from link 1) that we can have maximum of a 2 DDB disks per MA. So the confusion continues
c) does that mean that if I want to store 500TB BET on 1 MediaAgent I need to create 2 separate DDBs aka Storage Pools or can I create 1 DDB aka Storage Pool with 2 partitions hosted on the same MA?
d) taking this even further is it supported configuration to have 4-partitioned DDB aka Storage Pool on 1 MA?
 
If you add up that 1 MA can have a maximum of 2 DDB Disks and (assuming that a DDB disk is the same as DDB) 1 DDB aka Storage Pool can have a maximum of 4 partitions that gives a theoretical maximum of 8 partitions per MA
e) is having 8 partitions on 1 MA a supported configuration?
And finally on modern server you can have 128 physical cores, TBs of RAM and as many as 24 NVMe drives
f) so why there is a 2 DDB disks limitation per MA?
I am really curious about all that and would really like to understand that better.
Cheers,